Here's a collection of pictures of
Lisa Whelchel
through the years. Well, at least until before she left actressing and went
banaynays
.
Be sure to check out her weekly journal in the "Coffee Talk" section of the Web site. This week's gem?
The kids and I spent Wednesday at the Navy Pier. We took a SeaDog speedboat tour of Lake Michigan and we played in the Fun House and then Steve was able to join us for dinner at Bubba Gump's Shrimp Restaurant. (Remember from the movie, "Forest Gump?")
There's tons more, but mostly it's about Christianity this and Christianity that and blee blee blee. Actually, we're going to write her an email to tell her it's "Forrest" Gump, not "Forest," just like the way it's spelled on the fucking sign on your table, Blair.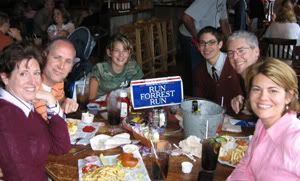 Oh, and one more thing. What the FUCK is going on with this birthday cake? (Sorry about the un-Christian language. It's just that she's making us mad.) If we didn't know better, we'd say the devil made it.