The recent posting of certain prom pictures got us in a prommy mood. This article
reports
on what could be the direct antithesis of the prizzom, the "modest" prom, "where young women wear dresses that cover their shoulders and backs. Where dance cards encourage students to mix rather than couple. One where partners slow dance at a respectable distance. Where the lights aren't so low that students can see who's standing in front of them."
If you don't have a mother who can "add extra fabric at the shoulders to create sleeves to what had been a beaded bandeau top with spaghetti straps," why not try this site, Totally Modest? There are five pages of totally modest totally taffeta, tulle or satin prom dresses. Look how much fun these girls are having in their totally terrific dresses...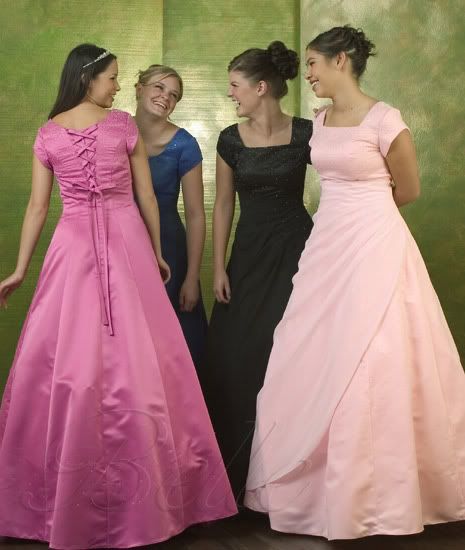 ...why, it's so exciting that the girl in the darker pink's head is turning completely around!
But, wait! What is this lurking on the
last page
of the totally modest dresses, waiting to pounce on the unsuspecting beaded dark blue chiffon? Oh yeah, it's the Totally Modest prizzom dress. You go, girl. Do yo thang! Work it! Uh-huh. Yeeah.