NB loves the celebrity Web sites because celebrities who need more attention than just from being on TV, in movies and in
US Weekly
are totally awesome. Today we bring you someone called Jenna Elfman and her own
Web site
, which she personally updated just three days ago!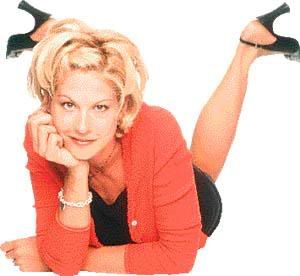 Some highlights:
Her
letter
, which includes such interjectory outbursts as "I also moved into my dream house at the beginning of this year. Finally! It took forever to remodel but it was worth it" and "Okay, I'm gonna sit by my new swimming pool, eat brownies and laugh at my pugs." The latter, of course, follows her endorsement of a new law "protecting every child in America."
Her "
faves
," which include Janice [
sic
] Joplin, Redken Cat Protein Reconstructioning Treatment and, courtesy of L. Ron Hubbard, this quote: "A culture is only as great as its dreams, and its dreams are dreamed by artists."
And her
bio
, which includes this gem: "Jenna Elfman brings a distinctive method of performing to her varied film and television roles, aptly combining a heightened sense of wit and liveliness with beauty and intelligence."
Oh, the humanity. Okay, NB is going to sit by a pool of vomit, eat pot brownies and laugh at Scientology. Later!