While all the Interweb is abuzz with Michael Jackson's
convenient hospitilization for the flu
, NB is proud to bring you a picture of what we can only assume is Camilla Parker Bowles showing off her engagement ring: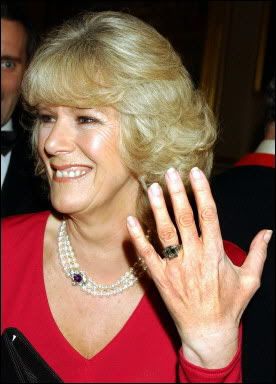 The ring, which belonged to the Queen Mother, is made of platinum and has a square central diamond with three diamond baguettes on either side. It sounds delicious.
On the day of the wedding, the English discount grocery chain, ASDA, will sell replicas of the ring for 19 pounds each, approximately 20 pounds less than what the Queen Mum spent.