Yes, as threatened, the Oscar nominations are out. But first, and more importantly, the
25th annual Razzie Award nominations
have been named. The worst picture nominations are
Alexander
,
Catwoman
,
Superbabies: Baby Geniuses 2
,
Surviving Christmas
and
White Chicks
. Word is they're all pretty terrible, but, of course, one film is missing from that list. In any year,
The English Patient
should not only be nominated for worst movie but should also be named worst movie. Or, at least, the Razzies should qualify their nominations with "Worst Movie of the Year Other than
The English Patient
." Anyway, you get the point.
Now, onto the less exciting, though shinier, Oscar nominations! The majors will be listed below, along with a score representing just how well NB did in yesterday's predictions. And to get you all ready, here's the Official Poster of the 77th Academy Awards, apparently designed in 1986 by the makers of everybody's favorite card game, Uno.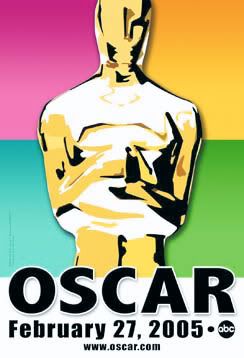 Best Picture
The Aviator
Finding Neverland
Ray
Million Dollar Baby
Sideways
We got 4 out of 5. Apparently, the blacks
and
the kids tied. No
Eternal Sunshine
which is just fine. It means I sat through only one of these.
Best Director
Martin Scorsese
Clint Eastwood
Alexander Payne
Taylor Hackford
Mike Leigh
Again, 4 out of 5. They went with Mike Leigh instead of Marc Forster. Great. We loves the Mike Leigh and abortion.
Best Actress
Annette Bening
Imelda Staunton
Hilary Swank
Kate Winslet
Catalina Sandino Moreno (the
Maria Full of Grace
chick)
5 out of 5. Hot damn.
Best Actor
Don Cheadle
Johnny Depp
Leonardo DiCaprio
Clint Eastwood
Jamie Foxx
3 out of 5. Ouch. No Javier Bardem and no Paul Giamatti. I guess they wanted to get the whole humiliating Paul Giamatti-losing-to-Jamie Foxx thing over with early. This is a prime example of why the Oscars are laughable.
Best Supporting Actress
Cate Blanchett
Laura Linney
Virginia Madsen
Natalie Portman
Sophie Okonedo (
Hotel Rwanda
)
4 out of 5. We missed the Okonedo chick. Obviously. Apparently they don't loves the Meryl Streep this year.
Best Supporting Actor
Thomas Haden Church
Jamie Foxx
Morgan Freeman
Clive Owen
Alan Alda
4 out of 5. Oldie Alan Alda beat oldie James Garner. Pretty much the same thing, anyway.
The rest of the nominations can be found
here
, though after the whole Paul Giamatti slight, try keeping a straight face whilst reading them.