Celeb blogs are just the bee's knees of Internetia. They're especially charming when attached to a vanity project. Take, for instance, Zach Braff's
Garden State

blog
(wait—did we say "celeb"? Bloops.). It's full of non-information about Mr. Braff and all the awards, accolades, ass-kissings his movie has received. A definite highlight is Braff's list of new year's resolutions: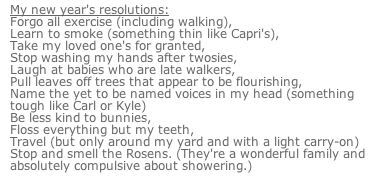 Smell the Rosens!? Floss everything but my teeth!? HI-larious. It's much funnier than when Mr. Braff was the electrical engineer on the first show I ever did in New York City in 1998.
Anyway, for another opinion of
Garden State
, here's Ruthless Reviews's Matt Cale's
worst films of 2004
. NB adores Matt Cale, even if he does knock a movie with Mo'nique in it.